Governor Ayo Fayose continues his long record of publicity stunts.
Ayo Fayose has done strange things as Governor of Ekiti state but his latest stunt might just take the cake.
Today, Wednesday, April 5, 2017, a clip of the Ekiti's first citizen spinning by the turntable surfaced on Twitter. Governor Ayo Fayose was grooving behind the wheels while playing Patoranking's hit single 'No Kissing'.
If this was another governor, people might have been pissed and question the priorities of the politician. Ayo Fayose's track record of media grabbing stunts has left even his most vocal critics tired.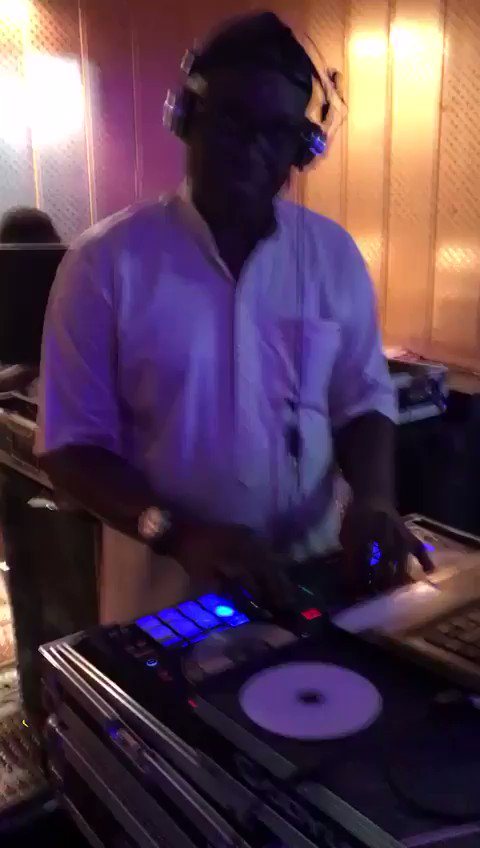 Gov Fayose of Ekiti State is also a DJ. Jimmy Jat is in trouble!
 Ayo Fayose is a public figure that can stir up controversy and get people talking. From showing up at the state of House of Assembly in shorts, supporting Donald Trump and bashing President Buhari, he has a knack for controversy and producing social media controversy. You can now call him DJ Fayose as well as a social media stunt man.
 Ayo Fayose has a knack for these type of photo ops, from eating on the roadside to talking to market women. Critics of the Governor say he doesn't focus his energy on pushing the state forward because he is consumed with parlour tricks.
Ekiti people might want to differ but the politician doesn't strike one as a progressive statesman consumed with the advancement of the state. The news that normally comes out from the South-Western state isn't robust, rather it's the dull government sponsored press clips.
 Ekiti state is regarded as the state with the highest number of professors. It's sort of odd that its present governor is spinning turntables and appropriating youth cultures instead of rolling up his sleeves to work.